Karachi: According to the passenger list released by PIA after the crash of flight PK-8303 from Lahore to Karachi on Friday, it landed in a residential area outside Karachi Jinnah International Airport on Friday with 51 men and 31 on board Women and 9 children.
It is said that there are at least 98 people on the plane, including 91 passengers and 7 crew members.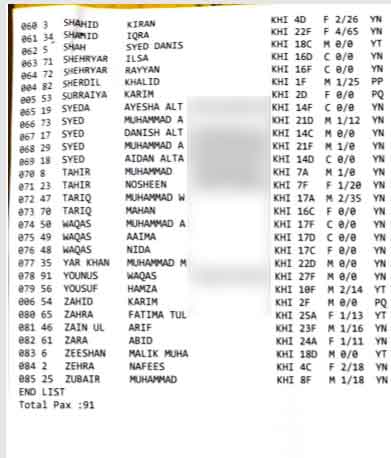 Initially there were reports that someone was spared, but it is too early to assert.
Security and rescue agencies compete to save as many lives as possible.
PIA CEO Arshad Malik said the pilot used his last words to tell the control tower that the aircraft had a technical problem.
He said: "The pilot was informed that both runways are ready for his landing. However, the pilot decided to go around. For technical reasons, why he did so, we will find out." Board the plane to Karachi .